Firehouse Gallery
The Firehouse Gallery is the most visual project of the Waimea Arts Council. It is strategically located in the heart of downtown Waimea in South Kohala's historic old fire station. Exhibits change monthly.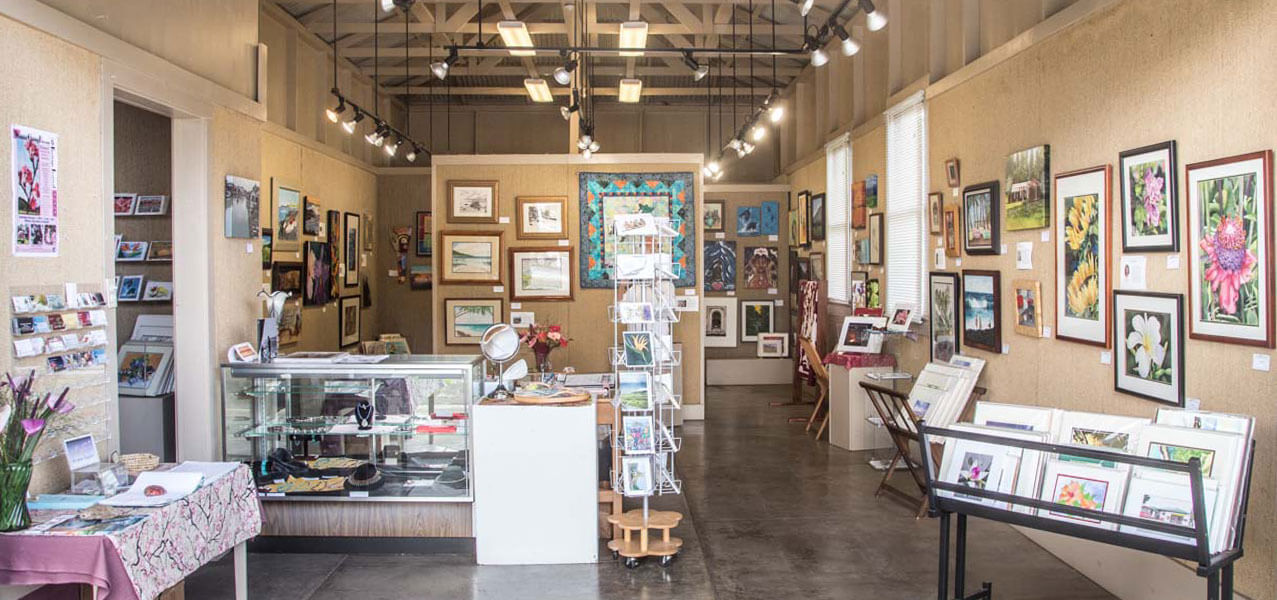 The Firehouse Gallery serves as a venue for Big Island artists by providing a place for them to exhibit and sell their work, as well as educational opportunities through workshops and the sharing of creative ideas with other members. Artists donate a percentage of any sales to the organization. All artwork on display is created by the artist member or donated to the organization by art supporters. The gallery is run by artists and local volunteers and offers mixed media from watercolor, acrylic and oil paintings to glass, sculpture, woodwork, photography and jewelry. Stop by and take home some local art.
To see a description of the current show and past shows, click here.
The Firehouse Gallery is staffed entirely by volunteers, so the hours below are dependent on availability of docents. Feel free to call us at 808-887-1052 during these hours to be sure we will be open on a specific day.
Hours:
11 am – 3 pm, Wednesday through Friday and Sunday
10 am – 3 pm, Saturday
Closed, Monday and Tuesday
Upcoming events:
"Small Solos"  Merna Joan Watta, Marie Kinchla, Pat Dinsman, Janice Gail, Bill Bishop, Scott Foster
November 29 – January 20
Back Gallery
"Affordable Art"  (take in November 25)
November 29 – December 30
Front Gallery
"New Member Artist Show"
January 3 – January 27
Front Gallery
"Small Solos"  Carolyn Lancaster, Julie McCue, Barbara Schaefer, Irina Place
January 24 – March 3
Back Gallery
"Springtime and Cherry Blossoms"  (take-in January 27)
January 31 – February 24
Front Gallery
"34th Annual Na 'Opio Youth Art Show"  (take-in February 24)
February 28 – March 24
Front Gallery
"Anything Goes" (take-in March 3)
March 7 – 24
Back Gallery
"Dual Retrospective" remembering Denise Ulrich, and Patricia Dahleimer (a benefit for the Humane Society)
March 25 – April 15
Front Gallery
"Ocean Conservation"  (take-in April 15)
April 18 – May 26
Front Gallery
"Hawaiian Culture"  (take-in May 26)
May 30 – June 23
Front Gallery
"Summer Fun"  (take-in June 23)
June 27 – July 28
Front Gallery
Annual Juried Art Shows
The Helen M. Cassidy Memorial Juried Art Show is held every year in the month of October. This show is open to members of the Waimea Arts Council in any medium and any subject. Historically, we have had visits from the Hawaii State Foundation on Culture and the Arts and they have purchased artwork for their Art in Public Places program.
The Na 'Opio Youth Art Show is held every year in the month of March. This competition is open to grades 6 through 12 in the North and South Koala and Hamakua districts – public and private schools as well as home-schooled children. Prizes are awarded in each grade.
Workshops and Classes
Workshops in many media – watercolor, pastel, silk painting, photography and more have been offered when an instructor is available. For information on any upcoming workshops, go to Events/Workshops.
Classes are offered on an ongoing basis
Public Art

A large mural on the side of our building (above) was completed by the students at Kanu O'Ka Aina school and their teacher Scott Plunkett, along with additional assistance from Tom Mehau, well-known local artist and founder of the Waimea Artists' Guild.
Murals on display on other outside walls were donated to the council in the 90s and painted by students of St. Joseph's School in Hilo.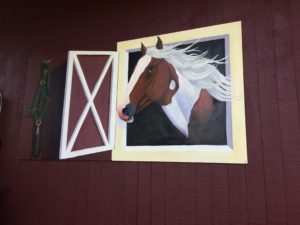 In July of 2017, our newest mural was added on the west outside wall, featuring a horse looking out of his stall.  This mural was painted by Terry Bensch, a long time member of the Waimea Arts Council, and honors the paniolo tradition of the Waimea area.
Community Collaborative Projects
Healthy Keiki Fest – This event is held every year in April at the Parker Ranch Shopping Center and WAC has had a booth there for many years, stirring up an interest in art with a project for the kids.
Cherry Blossom Festival – held in February each year. Waimea celebrates the blooming of the cherry trees and WAC features art related to cherry blossoms during that month, as well as participating on the day of the celebration.
Special Projects
Aunt Betty Sunglass project
In March 0f 2015, WAC opened their doors for 8 days to anyone in Waimea who would like to come in and have their photo taken wearing a pair of Aunt Betty Webster's sunglasses to assist her in documenting her collection for the Guinness Book of Records. It was very successful, and her collection of over 1500 sunglasses was certified as a Guinness record. WAC took all the photos and helped her submit them to Guinness, as well as throwing a big party to celebrate when it was all official.
Humane Society
In July of 2016, WAC featured artwork of pets of all kinds and donated a percentage of all sales for that month to the Hawaii Island Humane Society. There was a reception that featured sketches done onsite of any pets brought it and adoptable animals brought by the Hawaiian Island Humane Society, Waimea branch.