The Waimea Arts Council is putting out a call for quilt and fiber artisans for their June art show at the Firehouse Gallery in Kamuela. "Quilt & Fiber Exhibition, a fine craft show by local artists" will be on exhibit from June 4 – 29, 2014. This event offers fiber artists a unique opportunity to exhibit and to sell their functional and decorative art.
Participation is open to all Big Island artists 18 years of age and older. Work created after 2000 in any fiber media and/or using fiber techniques is eligible for inclusion. Pieces must contain at least a 75% fiber content. No more than three entries per artisans, maximum size 40 x 40". Exhibiting artists are required to volunteer four hours during gallery hours.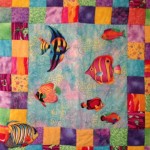 Entry submissions will be held on Sunday & Monday, June 1 & 2, 2014, 9 am to 3 pm both days.  A complimentary reception hosted by the Waimea Arts Council will be held Friday, June 6, 2014, 5 – 7 pm.
All items must be for sale. There will be a 25% commission for current and new WAC members works sold, a 50% commission on non-member works sold. No pieces may be removed before the end of the exhibition. Beware of copyright laws especially with purchased quilt patterns.
More information: contact Pat Dinsman: pldinsman@hawaii.rr.com, or Jay West: artglass@aloha.net.
To download prospectus, click below: