Marcia Wishnick and Merna Joan Watta
July 30 – August 30, 2014
"Asian Inspired Art and Visions of Hawaii", an exhibition of original paintings by Hawaii Island artists Marcia Wishnick and Merna Watta, will be on display at the Firehouse Gallery in Waimea from Wednesday, July 30 through Saturday, August 30th.
Paintings, prints and cards will be available for sale. The show blends eastern influences with the beauty of Hawaii, expressed in vibrant colors on canvas using oil and acrylics to bring images to life. Water, earth, flowers, Hawaiian cultural themes, and Asian scrolls and woodblocks are inspirations for the original paintings that the artists Wishnick and Watta bring to the Gallery for your enjoyment and all will be available for purchase.
An Artists' Reception will be held on Sunday, August 10th, from 3 PM to 6 PM at the Gallery. Join us for wine and pupus and meet the artists.
Marcia Wishnick moved to Hawaii with her husband in 2003 from New York City. Her busy life as a physician left no time for creative artistic pleasures.
She began painting in oil six years ago and has discovered great joy in bringing beautiful images to life on a blank canvas. She continues to expand her interests to include Asian influenced art, Hawaiian flowers, and human anatomy with a humorous slant. Many of her Asian inspired pieces are based on historical drawings brought back from China and Japan by her daughter who travels frequently to Asia.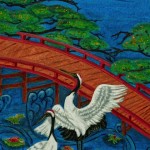 Wishnick has been a long time member of the Waimea Arts Council and displays her art in the Firehouse Gallery. She has been the recipient of awards from the juried Helen Cassidy Art Show and the juried Kahilu Theatre Art Show.

Merna Watta moved to Hawaii in 1993 from San Antonio, Texas.   She had a long career in the art world, garnering many honors and awards for her original artwork, and was recognized with feature stories about her artwork in the local press. Later in life, her priorities changed and her artwork was "put on the shelf" while she devoted herself to raising her children as a single parent.
Since coming to Hawaii, she has been inspired anew by the magnificent colors and scenery around her as well as meaningful cultural events, and has captured them with her paintbrush. Merna says: "I am inspired once again to share God's beautiful world through my paintbrush. I have chosen as my Hawaiian name "Ululani", which means "Heavenly Inspiration".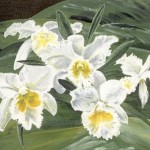 Her paintings are created in acrylic medium or colored pencil, and include scenery, florals, and Hawaiian themes. She is a long time member of the Waimea Arts Council and exhibits her work in the Firehouse Gallery, as well as in other venues around the island.