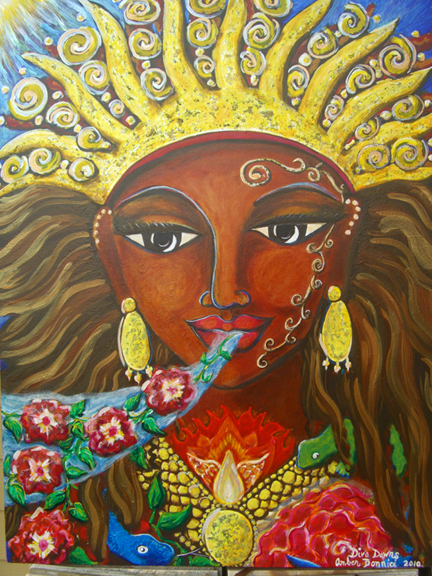 Join award-winning Big Island artist Amber DivaDawn Bonnici at her showing entitled, "The Legend of Amber DivaDawn: A Feminine Perspective of Healing and Self Discovery Through Art" running from August 7- 31, 2013 at the Firehouse Gallery. A reception to honor the artist will be held at the gallery on Saturday August 17 from 3-5pm.
"My own healing journey inspired this show. When I first started painting, I thought art was for a selected few, but as I started painting my emotions- the pain of losing my mother, shame from molestation, confusion of my identity as a new mother, fear of not being enough or even being too much – I found art reshaped me. My work shares this reconciliation of the wild and sacred part within myself. Painting and poetry have helped me find my voice, embrace fear and courageously step forward to live my vision. I believe everyone can find healing through art. I hope my work inspires others and reminds them of their own healing and heart opening."
Amber Bonnici's artwork is part of the contemporary symbolist movement and has been shown at the United Nations as part of the "Soul Fire Collection" featuring 42 Women artists from around the world. Her work is currently showing at "Women's Rights- An Artists Perspective," an international project. Her "She Honors the Calling of Her Heart" work has won numerous awards including First Place and People's Choice Award at the Helen B. Cassidy Memorial Art Show sponsored by the Waimea Arts Council.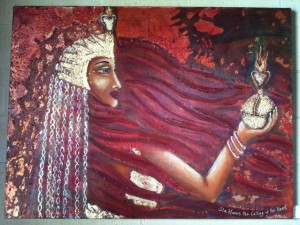 Her paintings and poetry have been featured in the
Healing Boxes 
Project
, an organization dedicated to sending out boxes of love, hope, support, information, healing items to people newly diagnosed with chronic and serious illnesses. Her poetry has been featured in
Cosmic Cowgirls Magazine
, a women owned & published magazine dedicated to transforming lives into legends.
"Painting is a sacred practice, like praying or meditating. I like to connect to Spirit and listen for messages. My work is about the process, not the outcome. It is both, symbolic and divine, wild and holy."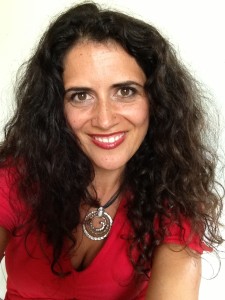 Amber Bonnici is an artist, writer, dancer, teacher and healer. She leads retreats and workshops on the Big Island, shares her poetry and art through her online community at
www.amberbonnici.com
and her online gallery Art by Amber Bonnici at
www.amber-bonnici.artistwebsites.com
.