June 4 – 29, 2014
During the month of June, The Firehouse Gallery presents an exhibit of fiber art, including quilts, weaving and all types of artwork created from fiber products.  The exhibit opens on Wednesday, June 4 and runs through Sunday, June 29. The Waimea Arts Council will host a complimentary reception, open to the public, on Friday, June 6 from 5 to 7 pm.
Over 30 pieces of traditional and contemporary functional and decorative pieces will be  available for viewing and purchase. Quilts, including patchwork andD Hawaiian style appliqué, plus original designs with a contemporary style will be available for sale. This year's show will include woven works from members of the Hawaii Island Chapter of the Hawaii Handweavers Hui.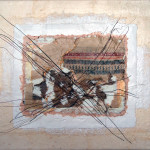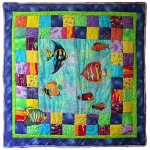 Two additional Mini Shows
At the same time, the Firehouse Gallery will feature not one but two mini-shows in the back gallery.  One of the shows will feature member artist Joyce Robertson and the other is open to all our member artists.
In talking about her work, Joyce says:  "It's always difficult to put into words the source and reasons for what I paint because it comes from a nonverbal experience. Have you ever meditated and suddenly in the act of concentrating on your breathing an idea pops into your consciousness that comes from nowhere? It is a similar experience that brings me my images. I see an object in a photograph or in the world that captures my attention. I don't know why. It's importance to me comes from a deeper consciousness. It is a symbol that I want to paint. Sometimes it's a hat, sometimes a bird, sometimes a plane, a chair, a cup. Sometimes it's just a circle or an X, or a word. I've learned not to question the symbol, what it means and why I should paint it. I simply accept it as a gift and make use of it.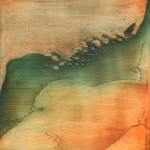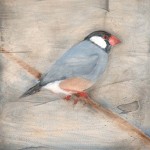 I use a square format because the square has spiritual significance to me.  It represents the "four directions."  The surface of the painting is as important to me as the subject. I use a plaster-like surface as my ground. I often scratch into it to give it the beauty of age and accident. For my colors I use many layers of transparent glaze to give depth to the color. I want my surfaces to be as beautiful as the old walls I've seen in Europe and Asia."
June's second mini-exhibit is open to all of our WAC members and its theme is "Anything Goes."  As the title suggests, this is a chance for our artists to let their creativity run wild!
As you can tell, coupled with the Quilt and Fiber Exhibition in the main gallery, we'll have lots to see and buy!