July 6 & 7, 2013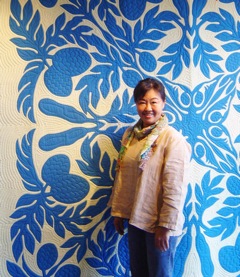 Quilts Lei Hayama of Japan will show their Hawaiian style quilts at the Firehouse Gallery in Waimea on Saturday & Sunday, July 6 & 7 from 10:00 a.m. to 3:00 p.m.
This is the 12th year members from this unique Japanese quilt club have shown their pieces and demonstrated the fine craft of Hawaiian style appliquéd quilting at the Firehouse Gallery. Club President, quilt designer and teacher Shigemi Obata will be the featured quilter with many new quilts designed by herself and her students on display.
Shigemi teaches quilting in Hayama, Japan, which she learned from Doris Iwalani Feary Nosaka of Hilo.Doris introduced Shigemi to the Waimea Quilt Club almost 25 years ago. The Quilt Lei Hayama, a club in Japan, was founded by Obata and presently has between 15 and 20 students as on-going members. Ms.Obata's classroom features many Hawaiian fabrics and books.
Ms. Obata travels to Hawaii almost four times a year photographing flowers that she then translates to designs for her original quilt patterns. Obata explains "I come to Hawaii to photograph flowers to deliberately create designs for quilts. Once again, it makes the flowers bloom on the fabrics." For more information visit www.quiltsleihayama.com.