January 29 – March 1, 2014
During the month of February, The Firehouse Gallery hosts an art show by member artists featuring art and fine crafts with a cherry blossom theme. The show is in conjunction with the Waimea Arts Council's sponsorship of the 21st annual Waimea Cherry Blossom Heritage Festival.
The show features many works of art based on a cherry blossom theme and includes the original painting that was selected to represent the 21st annual Waimea Cherry Blossom Heritage Festival. "Love These Cherry Blossoms!" is an oil painting by award winning Kona artist Rani Denise Ulrich.
This impressionistic style 18″ x 24″ painting shows all the elements that combine to make Waimea's cherry blossom trees so unique – a heavy snow on a green Mauna Kea, bright pink flowers and a finch. It will be featured on the souvenir program booklet.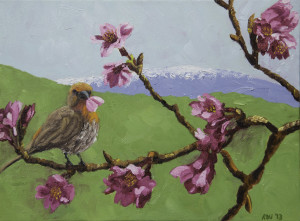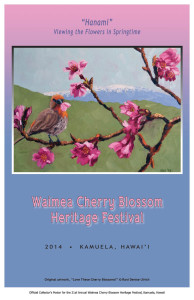 The original painting, along with prints and limited edition collector's posters featuring the painting  will be available for purchase   at the Firehouse Gallery.
On February 1 – Festival Day – WAC will offer a number of  free activities in and around the buildings on Waimea Historic Corner….
Firehouse Gallery open 8 am – 4 pm
Chalk Art – artists and wannabe artists, young and old, are encouraged to express themselves visually on the concrete and surrounding sidewalks. Chalk provided, or bring your own.
Artists' Demos (Senior Center) – Eco-artist Jay West with Charmiam Vistaunet (papermaking), Linda Simrose (acrylic painting),  Julie McCue (watercolor), and Kathleen Jaeger (mosaics and acrylics). There will also be artists painting on the lawn, weather permitting.
Photography Demo  – several of WAC's fine art photographers will share their knowledge and techniques with festival visitors.  9 am – 3 pm. Sam Cudney, Susan Harris, Joe Laceby, and Kris Lockard will be located between the Firehouse Gallery and the Waimea Preservation Association (WPA) cottage.  Look for the tent with the WPA sign on it.
Hot and Cold Food Booths –
Kohala Burger & Taco, from Kawaihae Center, will once again partner with WAC to provide tacos as a fundraiser from 11 am – 1 pm.  Their food is prepared fresh daily and features 100% Hawaii grass-fed, hormone-free beef.  Located in Senior Center.
Tropsicles, from Hilo, will have a booth outside featuring frozen popsicles made from natural island fruits and using the best local seasonal and organic ingredients available.