June 4 – 30, 2016
Honokaa artists Pat Dinsman and Marie Kinchla will exhibit their island inspired, colorful original paintings and fine art photographs June 1 thru June 30 at the Firehouse Gallery in Waimea. Both artists are inspired by their tropical surroundings and island life has clearly influenced their work. Also both are accomplished artists, members of the Waimea Arts council and have volunteered countless hours and energy to the gallery.
Kinchla paints island images, capturing island colors and light in watercolor, oil paintings, and sometimes pastel. Kinchla vacationed here for over twenty years and moved to Honokaa several years ago. She has displayed her art in several different galleries and art shows on the mainland, Oahu, and at the Firehouse Gallery in Waimea. She received a BA in Fine Arts.
Dinsman started drawing and painting when she was a child, and then went on to study and earn a BA degree in Art from CSUSB. She grew up in southern California surrounded by deserts, mountains, and the Pacific Ocean. She often visited Palm Springs, the San Bernardino Mountains, Laguna Beach, Moro Bay, Arizona, and New Mexico. She derives inspiration from the places she has traveled to and lived. Definitely, the experience of living in Hawaii has influenced her current work. She enjoys depicting the love and feel of what she sees and experiences in her photography and oil paintings. Animals, nature and people are included in her collection of island art.
A reception will be held on Sunday, June 12 at the Firehouse Gallery from noon to 4 pm and is open to the public as well as friends of the artists.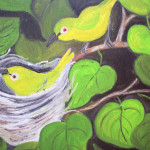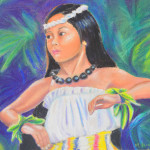 On exhibit in the Back Gallery of the Firehouse Gallery, are small solo shows by four artists of the Waimea Arts Council. Featured are acrylic works by Marty Allen and Merna Joan Watta as well as oil paintings by Bill Bishop and photography by Ramona Frances.
These exhibits began on May 18 and  will continue through June 25.