July 2 – 27, 2014
Duet of Color", an exhibit of paintings by Big Island artists Lynn Chapman and Julie McCue, will be on display with original paintings, prints and cards for sale from July 2 – 27 at the Firehouse Gallery in Waimea. These two artists' colorful oil and watercolor paintings capture the island's beauty from flowers to seascapes. Although they have different subjects, styles and mediums, this unique show harmonizes their creativity and shared love of the island. They are both accomplished painters and long-time members of the Waimea Arts Council and have given much time and energy to the Firehouse Gallery
The public and friends are invited to a reception at the gallery on Saturday, July 5 from 2:00 – 5:00 pm. Come to meet the artists and enjoy delicious pupus and chocolate delights. Julie and Lynn are dedicating this show to their mothers, who encouraged and inspired them, and who coincidentally were both born on July 5. On the day of the reception they would have been 101 and 103 respectively.
Julie McCue started painting watercolor somewhat late in life. Growing up, she learned many arts and crafts, which helped develop a feel for color and composition, but she never painted. In 1994, she and her husband retired and moved from Minneapolis to North Kohala and with more free time available, the urge to try painting kicked in. "I love color, and the natural bright colors of North Kohala, are an inspiration. As a result, I tend to use bright, clear hues in my paintings. I enjoy watercolor because I love the way it blends color."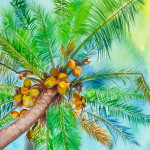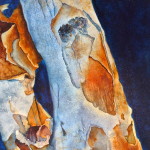 Like Lynn, Julie likes to paint nature, usually focusing on flowers. Currently she is developing a series on "textures in nature", initially focusing on tight closeups of interesting tree barks. "I started taking photos of trees and when I zoomed in close, I found the most interesting colors and patterns." The first in that series "Eucalyptus Bark" won first place at the 2013 Helen M. Cassidy juried show and was purchased by the Hawaii State Foundation on Culture and the Arts for their Art in Public Places program.
Lynn Chapman has been painting Island images capturing the vivid island colors and light in oils since she and her husband, Gary, moved here several years ago. Prior to that, they lived in the redwood country of northern California for 35 years. "I find that my paintings are influenced by the island's warm, soft atmosphere. Whether painting outdoors or in my studio, I try to capture color and beauty, and I find that my paints and brushes are what create the paintings from my basic ideas . I am so happy to have the honor of sharing this show with Julie McCue. She's a wonderful artist and we do seem to harmonize well."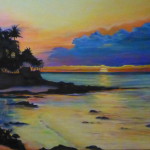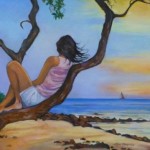 Lynn has displayed her art in several galleries and shows, including the Artists' Plein Air Show in Hilo this year. She has a painting included as a full-page illustration in the book "This We Believe". She has been an active member of the Waimea Arts Council, displaying her paintings at the Firehouse Gallery in Waimea, has won 2 Helen Cassidy Juried Show awards and is also a member of the Kohala Plein Air painting group.