January 28 – February 28
The Waimea Arts Council is sponsoring the "22nd Annual Cherry Blossom Art Exhibition" at its Firehouse Gallery. This annual show features original art, as well as prints and cards, by the island artist members of the Waimea Arts Council. The exhibition will be on display during the entire month of February, and is held in conjunction with the 22nd Annual Waimea Cherry Blossom Festival, which is held on Feb. 7. The gallery will be open from 8 am – 4 pm on Festival Day, and there will be artists painting on easels on the lawn outside of the gallery (or in the Senior Center if it is raining.)
The art chosen to represent the 2015 Waimea Cherry Blossom Heritage Festival is "Spring Blossoms", a glass sculpture by award winning Waimea artist J. Jay West. The image is featured on the Program booklet and on the official collector's poster, which will be available for sale for $10 each, only at the Firehouse Gallery beginning Jan. 29.  The artist will be available in the gallery to sign the posters during Festival Day on February 7. (Click image to see full piece.)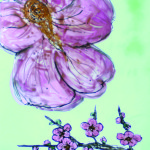 This 14 x 11″ impressionistic style transparent sculpture expresses the life, depth and passion Jay feels towards our community.  "As I walk under the cherry trees when blossoming I succumb to the shifting transparency of the various colors of the blossoms," Jay recalls. "This was my inspiration." The original piece is available for sale in the gallery.
West blends her passion for recycling with the creation of one of a kind art. For "Spring Blossoms" she upcycled four layers of used picture framer's glass. Her work stands out amongst the many talented Hawaii artists due to her innovative use of found materials and continuous experimentation utilizing both ancient and modern technologies.
Working out of her Kamuela studio she creates decorative and functional art including fused glass sculptures and bowls while continuing to explore various type of photography. She was the first artist-in-residence at the Keaau Recycling & Reuse Center when it opened in 2003. She is on the board of Recycle Hawaii and The Waimea Arts Council, as well as a member of the Hamakua Artisans' Guild,
Jay holds a Fine Art degree from the University of Kansas and has lived in Kamuela for almost 30 years, freelancing as a graphic artist and designer when not making art.
Festival Day Activities at the Gallery
Sidewalk Chalk Art:  All ages are invited to get creative with chalk on the concrete and surrounding side-walks at Waimea Historic Corner Park during the festival. Bring your own chalk or use the Waimea Art Council's. Artists and wannabe artists can express themselves visually during the festival. Parents must supervise their own children in this area.
Artists on the lawn: Member artists of WAC have been invited to set up their easels on the lawn around the gallery or at Church Row on this day.
Auction
There will be a silent auction of a donated oil painting by Ian Haight – a former member of WAC who currently lives on Maui.  Ian is a surfer and usually paints water and beach scenes, but we are lucky to have this colorful painting of "Mauna Kea and Cherry Blossoms" to auction off with all proceeds going to the Waimea Arts Council.  Click on image to see full picture.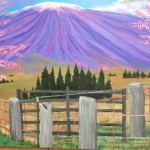 Back Gallery
In the back gallery during the same time, there will be small solo shows by three of our member artists:  Irina Place, Pat Dinsman and Linda Simrose.  The rest of that space will be "Flowers"  – floral art by many of our member artists. Click on images below to see full pieces.