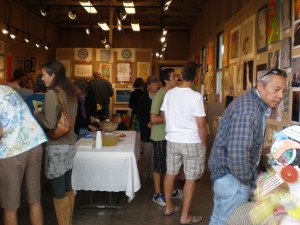 The Waimea Arts Council Firehouse Gallery Announces our 29th Annual Youth Art Show- Na 'Opio.  We will exhibit art throughout the month of March, from art students in the communities in the North and South Kohala and Hamakua Districts.  As we celebrate the 52nd year of Youth Art Month, we are reminded of the need for art in all aspects of life, not only as a means of expression but to stimulate the young minds around us, enabling their developing minds to accept all forms of learning.
The show will be open to students Grades 6 through 12, and will be judged within each grade level.  Art will be accepted at the Firehouse Gallery on Saturday, February 23rd between the hours of 11:00am and 3:00pm.  Juror to be announced.
Submitted art must conform with the Rules of the Show, and the gallery reserves the right to refuse art that is inappropriate, or to display only according to space available.  To receive the Rules of the Show, please contact Janice Gail at janicegailart@aol.com or call (808)936-1449.
Cash prizes and award certificates will be presented at a reception for the artists on Sunday afternoon, March 3rd, from 3-5pm at the Firehouse Gallery.