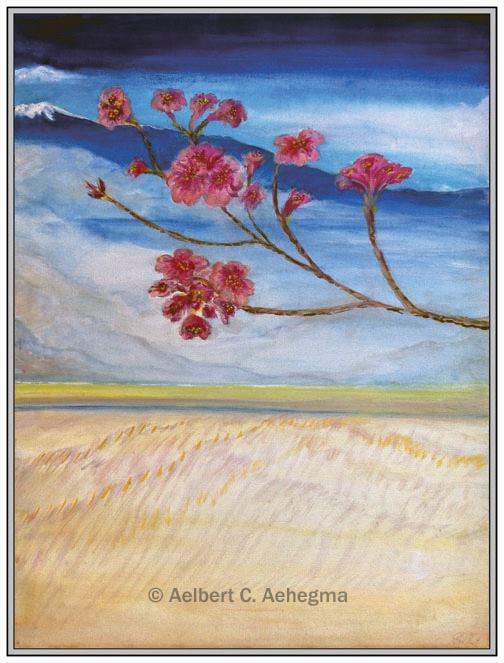 This year's Waimea Cherry Blossom Festival planning committee announced the selection of artwork to represent the 20th Annual Waimea Cherry Blossom Heritage Festival.  "Cherry Blossom Snows," a painting by internationally exhibited Hawaii Island artist Aelbert Aehegma, will grace the cover of the souvenir program and also be featured on the commemorative event poster.
This impressionistic style 18″ x 24″ painting depicts all the elements that combine to make Waimea's cherry blossom trees unique.  In the early spring of each year, after a major snowfall on Mauna Kea, the trees around town start to show signs of life with small pink buds that soon open to bring bright red blossoms.
The bright pink flowers are an oddity in that the original trees produced a very pale pink blossom.  Why the blossoms changed from a pale pink to bight pink is somewhat of a mystery.  Some locals speculate that it's the volcanic soil.
The artist comes from Kailua-Kona and is a Waimea Arts Council Member.  Aelbert Aehegma's background includes both national and international exhibits.  He holds a three-part M.A. in Program Renaissance: Art Administration, Art in Education and Multi-media Art.
The original "Cherry Blossom Snows" painting along with prints and souvenir event posters will be available for purchase at the Firehouse Gallery beginning January 31.  Aelbert will set up his easel and be painting under the tent next to the Firehouse Gallery during the 2013 event held on February 2, 2013.  He will also be available to personally sign the limited edition 2013 event posters on the same day from 10:00am -3:00pm.