March 4 – 21, 2015
MARCH IS YOUTH ART MONTH – and the Waimea Arts Council  invited students  to submit works of art to be juried and displayed at the Firehouse Gallery, March 4 through 21, 2015. This includes students in public and private schools or home-schooled, throughout the North and South Kohala and Hamakua districts in grades 6-12.
Each student competed at their own grade level, with cash awards and/or certificates of honor going to First through Third Place and to Honorable Mention in their own grade. These awards will be presented at a public reception to be held at the Firehouse Gallery on Sunday, March 8 from 3 – 5 pm.
This year's show was juried by  Kauanoe Chang who taught  art  at McKinley HS in Honolulu from 1970-1985.  She has exhibited in many one-man shows and group shows on O'ahu and Hawai'i Island and is one of the founding members and first Director of HOEA (Hawaiian 'Ohana for Education in the Arts).
Most recently, she was named a MAMo (Maoli Arts Month)  Awardee, which recognizes the contributions and accomplishments of Native Hawaiian visual artists and their influence and commitment in promotiing, perpetuating and celebrating Hawai'is culture and peoples through the visual arts. An invtational art exhibit at the Wailoa Art Gallery in Hilo will feature her paintings, along with the works of other Native Hawaiian artists, from Aprill 2-23.
The following awards will be presented at the reception:
GRADE 6: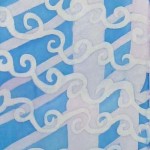 1st- Camille Helmuth, HPA Village, "A Sky Full of Waves", Batik on Silk
2nd – Kayla Tadaki, HPA Village, "Over the Waimea Hills", Watercolor
3rd – Ellie Nakano, Waimea MS, "3-D Cylinder", Charcoal
HM – Grace Bostock, HPA Village, "Swarming the Crownflower", Wax batik on silk; Raquel McMackin, HPA Village, "The Road So Far," Mixed Media
GRADE 7: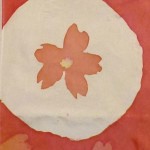 1st  – Asuka Frysinger, HPA Village, "Cherry Blossom", Wax Batik on silk
2nd – Elliot McDonald, Parker, "Tribal Lines", Ceramic/MM
3rd – Halia Buchal, Parker, "Puffin Spirit",Paper Sculpture
HM – Kawehi Bell Kaopuiki, Waimea MS, "Three Birds", Cut Paper; Jordan Vedelli, Parker, "Starry Me", Mixed Media
GRADE 8: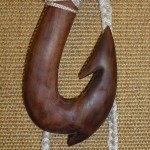 1st – Dutchie Ahana, Parker, Koa Fish Hook & Braided Lashings
2nd – Anna Gaglione, Parker, "Octa-flow", Ceramic Sculpture
3rd – Jadyn Ashcraft, Parker, "Natural Unity", Ceramic/MM
HM – Tyrie Tanaka, HPA Village, "HPA Campus Front", Ink & Watercolor; Megan Abe, HPA Village, "Butterfly", Paint on silk
GRADE 9: 
1st  – Logan Von Elsner, Honokaa HS, "The Icon", Pencil
2nd – Ethan Crawl, Parker, "Reflection I.S.O", Acrylic
3rd– Kiele Carpio, Kohala HS, "Shave Ice", Photography
HM – Amber Sumic, Kohala HS, "Coil Vase-Warm Tones", Ceramic
GRADE 10: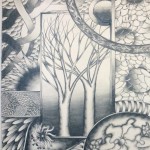 1st  – Romilly Benedict, Honokaa HS, Untitled Montage, Pencil
2nd – Coco Romano Giordano, Parker, "Self Portrail, Series #21", Photography
3rd – Avery Williams, Parker, "Thoughts and Strands of Thought", Ceramic
HM – Eric Fetch, Parker, "Kinetic Expressions", Wire sculpture
GRADE 11: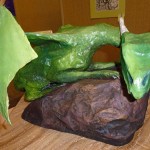 1st– Hoku'ula Pagan, Honokaa HS, "A Glimpse in Time, Papier Mache
2nd – Audrey Quijano, Honokaa HS, "Kamuela Roads", Digital Photography
3rd– Sivan Najita, Parker, Untitled Vessel (#13), Ceramic
HM – Angelo Foley, Honokaa HS, "Portrait of Ryan Gosling", Mixed Media; Marlo Mundon, Parker, "Portrait of Allanis in 40 Minutes", Acrylic
GRADE 12: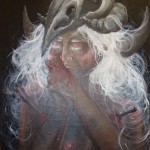 1st – Allanis Anderson, Parker, "Valkyrie", Acrylic
2nd – Breena McAuley, Kohala HS, "Petroglyph", Photography
3rd – Sophie Dommer, Parker, "Nature vs. Man", Assemblage
HM – Armando Realista, Kohala HS, "Still Life", Mixed Media; Dimitri Zampathas, Honokaa HS, Untitled Characters, Acrylic
BACK GALLERY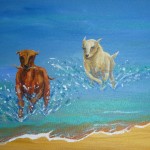 In the back gallery, during the month of March, and through April 11, will be "Our Pets" – a member show featuring artwork depicting pets, whether they be dog, cat, bird, horse, or whatever.  We pay homage to those animals who have enriched our lives.